The Children's Ministry at FUMC
"Jesus Loves the Little Children . . . and so do we!"
Sunday School - Children's Church - Children's Choirs
Wednesday Children's Classes
Nursery for All Events
Children's Library (Books and Videos) in Burns Hall
Family Movie Night: One Friday a month durign the school year, we offer aFREE family movie night where anyone can come and eat a meal (usually hot dogs or pizza, chips and drinks) for a $1 donation from 6-6:30 pm. At 6:45 pm the movie is shown in Fellowship Hall and it is normally one that children as well as adults would enjoy. These movies are movies that recently came out on DVD. During the movie, there is free popcorn and juice boxes for the children and coffee for the adults. We are currently averaging 80 people each month and approximately 90% of the people that come are from our community
---
Kids for Jesus Children's Church - Sundays
Kids ages 4 years through 5th grade are welcome to join us in Burns Hall, Room 13, at 10am for crafts, snacks, games, puppets, drama and more in Burns Hall. Communion is served the first Sunday of the month. Families pick up their children in Burns Hall after the 10:15 Worship Service. Come join us!
Sunday Schedule
Sign-in at Burns Hall - Office Lobby in Burns Hall - 9:00 am
Sunday School - 4 years - Grade 5 from 9-10am
Kids for Jesus Church - 10am
Summer Camp
Summer Camp - June, July & August . Hours: 6:30am to 6:00pm
Closing Program Friday, August 3, 2018 at 7:00 pm
Download Summer Camp Application
Vacation Bible School (VBS)
July 23 - July 27, 2018- Hours: 8:30 am - Noon
Closing Progam - Friday, July 27 - 7:00 pm
Call for Registration 352.683.2600 x2015 or x2016
---
Family Fall Festival
The Children's Ministries will be hosting their Fall Harvest on Friday, October 26, 2018 at 6 pm. The event is open to the entire Spring Hill community. Ms. Pat is in need of volunteers to assist in manning games and helping the children have a great time! Volunteers should report to Miss Pat no later than 5:00 pm, on that day so that assignments can be in place before the event begins.
Winter Wonderland
Crafts, Games and Much More!
(Watch for Dates)
---
MISSION STATEMENT
The First United Methodist Children's Ministry will strive:
To reach every child within the Spring Hill area and its surrounding communities with good news of God's love through Jesus Christ.
To teach every child the principles of God's word so that they may grow toward spiritual maturity.
To equip every child for effective service in the kingdom of God.
CHECK IT OUT!
For Jesus-filled Classes and Activities for Children
* SUNDAY MORNINGS *
Sunday School Classes for all Ages ... 9:00 AM In Burns Hall
4 Yrs & 5 Yrs - Kindergarten . . . Room 12
1st & 2nd Grades . . . . Room 14
3rd & 4th Grades . . . . .Room 13
5th Grades . . . . Room 11
Nursery located in the Main Sanctuary building for
Infant to 3 years old . . . .

---

Children's Church
10:00 AM in Burns Hall
Four year olds thru 5th Grade meet in Burns Hall at 10:00. Bible Lessons - Crafts - Snacks - Games - Movies -Puppets - Drama
Communion Service the first Sunday of the Month
~
** Family picks up children in Burns Hall after Church **
~
Childcare is provided on Saturdays for the '5:22' Worship service in Burns Hall.
Nursery Care is provided on Sunday Morning from 8:45 to 11:30 AM
Infant to 3 years - Sanctuary -
---
* Wednesday Evenings *
Children's Dinner
5:30 PM in Burns Hall
~
Children's Music
In the Choir Room(s)
6:00 - 6:45 pm
~
Children's Arts & Crafts
offered by Ms. Pat and Crew
in Burns Hall - Room 13
5:00 - 6:00 pm
---

Nursery Care is provided on Wednesday Evening during Bible Study and Adult Choir
---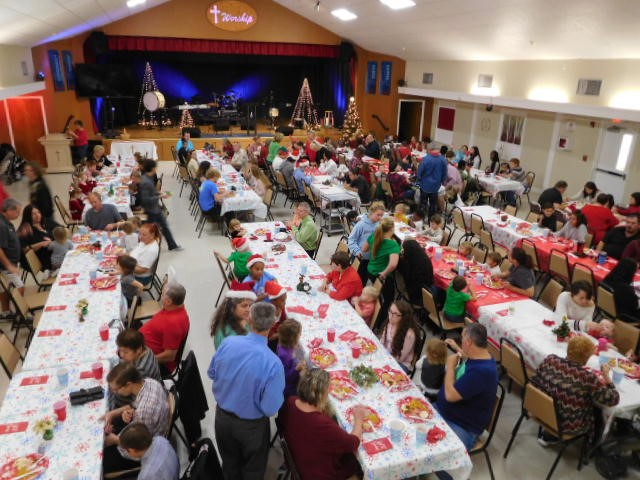 Christmas came early for almost 180 foster children and their parents who heard and experienced the love of Jesus as First UMC of Spring Hill hosted a Christmas lunch party which included gifts from Santa for the kids!